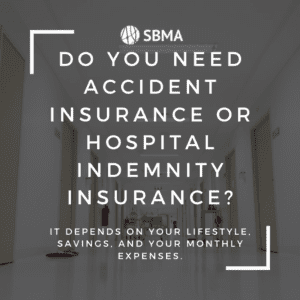 Navigating insurance policies can be challenging for anyone. There isn't a way to predict the future, how can you know what you will need? There are so many options available, how can you decide? Voluntary benefits can help supplement insurance policies that may not cover all of your employee's needs. There are multiple options when it comes to voluntary benefits with a few differences. What's the difference between hospital indemnity policies and accident insurance? Here's a breakdown.
Accident Insurance
Accident insurance is an option to help supplement out-of-pocket expenses for potential expenses incurred when an accident occurs. This insurance is used to cover expenses that your standard health insurance plan cannot cover. Typical medical insurance directly pays the medical provider, and you get the bill later. Accident insurance pays the cash directly to you and you are able to choose the best way to utilize that money.
What exactly does an accident insurance policy cover?
There are quite a few expenses accident insurance covers that your traditional health insurance plan may not. These can include emergency room visits, ambulance rides, helicopter transportation, hospital admission charges, diagnostic exams, follow-up treatments, ICU and rehabilitation unit care, and physical therapy. If you have ever had to be transported in an ambulance, you know how expensive that can be, therefore accident insurance could save you thousands of dollars.
Deductibles for many medical insurance plans can cost thousands of dollars, other insurance simply doesn't cover hospital stays, ambulance rides, or other non-preventative care. Accident insurance can be a great back up plan.
What is hospital indemnity insurance?
Hospital indemnity insurance is very similar to accident insurance, whether you choose one over the other or, get both, will depend on your lifestyle, expenses, and savings. It is also used to supplement any expenses incurred outside of your health coverage.
Hospital indemnity insurance provides a set cash payment to use for any bills you need to pay. This is especially helpful for paying housing, bills, and living expenses if you are unable to work.
What does hospital indemnity insurance cover?
Hospital indemnity insurance coverage depends on the plan and coverage options you choose. Some things covered under a typical hospital indemnity plan include: ICU stays, critical care unit stays, outpatient surgery, continuous care, outpatient x-rays and laboratory procedures, outpatient diagnostic imaging procedures, ambulances, emergency rooms, and physician office visits.
Generally, hospital indemnity plans have lower premiums compared to other insurance, but depending on your coverage that can increase.
So, how do you decide which coverage to invest in?
The important distinction between the two types of insurance is how often you frequent the hospital. If you have hospital indemnity insurance and do not go to the hospital, you will not get paid benefits. However, accident insurance applies to both hospital stays and treatment from your primary care doctor. Consider a few things before you make your decisions.
Consider your lifestyle.
Do you enjoy running, hiking, and other activities that may be more prone to accidents? Accident insurance might be your best choice. Do you have kids who play sports or are constantly playing outside? Accident insurance may be for you. If you lead a relatively healthy, active lifestyle, accident insurance might be a better option for you.
If you have a chronic health issue or have dependents with chronic health issues, hospital indemnity insurance may be a better bet for you.
How much money do you need to get by?
If you live alone, or if you are a relatively young person with fewer financial responsibilities, accident insurance is a great option to ensure you are covered for whatever comes your way. Sometimes, the best solution may be to have both coverage options. If you have children, own a home, own a car, and have other expenses, purchasing both will give you the best coverage.
Lastly, consider how much money you have saved for emergencies.
If you don't have a large amount of savings, e.g. enough to cover 3 months of expenses, a small monthly premium for accident insurance may sense for you. On the other hand, if you have enough money to cover potential accident expenses and support your lifestyle, but a large hospital bill might drain your savings, hospital indemnity insurance may be the better option.
There are quite a few things to consider as you decide what coverage may be best for you. At SBMA, we offer multiple voluntary benefit options to ensure you are prepared for whatever comes your way. Contact us to learn more about our employment policies and how you can ensure you are covered in case of an emergency.
https://www.sbmabenefits.com/wp-content/uploads/2020/09/pexels-oles-kanebckuu-127873-1-scaled.jpg
1920
2560
Jackie Berens
https://www.sbmabenefits.com/wp-content/uploads/2020/07/sbma-logo-.jpg
Jackie Berens
2020-10-12 07:00:00
2020-09-30 14:00:07
What's the difference between hospital indemnity policies and accident insurance?