Brokers! Choosing your virtual benefits administrator is vital to the success and care of your clients. In order to give your clients the best health insurance experience, choose an administrator that offers a wide variety of products. Your virtual benefit administrator should give your client the ability to control their healthcare at their fingertips. How can a benefits administrator, like freshbenies, help your clients take control of their healthcare?
As the benefits marketplace continues to shift and evolve, your clients need to be in control of their health care services.
How can you help your clients gain control of their healthcare?
Help them:
Control their spending.
A virtual benefit administrator, like freshbenies, helps your clients take control of their spending related to healthcare. freshbenies users receive bottom-line savings. All packages include Member Engagement Systems to drive member experience. The expansion and wide-use of telehealth services give your clients the care they need from the safety of their own homes at an unbeatable price. More employees opt-in when services are bundled and convenient like those from our partner at freshbenies.
Control the time they spend navigating healthcare.
With SBMA, Transamerica, and freshbenies, multiple vendors are bundled into one invoice, membership, and point of contact. This ensures your and the client's experience is simple and streamlined. With freshbenies your clients' employees can forget the hassle of waiting rooms and scheduling appointments.
The included Virtual Benefits Administrator takes away the hassle. You can negotiate medical bills, find local in-network doctors, and book a telehealth appointment all in one place.
Control their peace of mind.
As a broker, you want your clients to receive the best possible benefits packages at the best price. What comes with offering benefits that provide the best care, support, and price for your clients is peace of mind. With streamlined processes, convenient and cost-saving services, and instant access to their portal, your clients can gain that peace of mind.
Thousands of employers, of varying sizes, trust SBMA and freshbenies. You can be confident that you are receiving the best care. 
At SBMA, our insurance coverage plans offer clients coverage when they need it most, with exemplary customer service. Our employee benefits administrators offer partnerships and health coverage that are ACA compliant, affordable and hassle-free.  To learn more reach out to our team at info@sbmabenefits.com.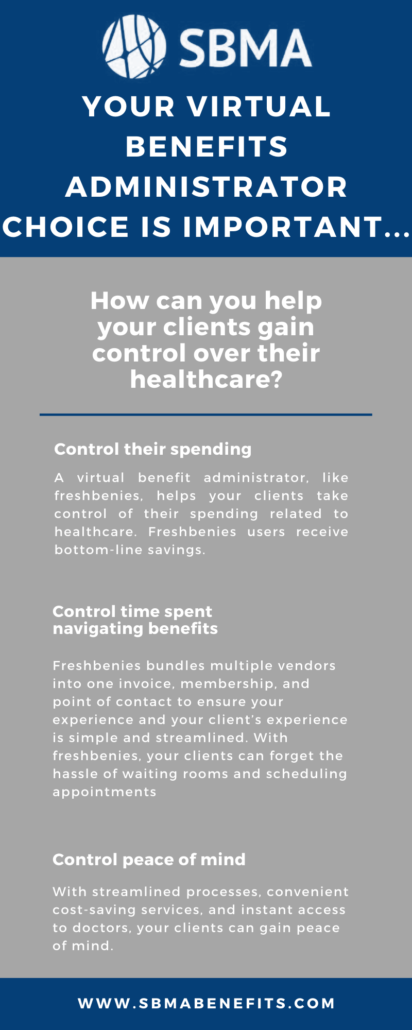 https://www.sbmabenefits.com/wp-content/uploads/2020/10/Untitled-design-15.png
720
1080
Jackie Berens
https://www.sbmabenefits.com/wp-content/uploads/2020/07/sbma-logo-.jpg
Jackie Berens
2020-10-28 13:52:26
2020-10-28 13:52:27
Your Virtual Benefit Administrator Makes a Difference