How Can Voluntary Benefits Help You Attract and Retain Employees?
Benefit programs are essential to keeping your employees engaged and happy at work— but not just standard benefit programs. You also need to be providing voluntary benefits. Voluntary benefits allow employees to feel cared for and important in your organization. Here are a few ways voluntary benefits might benefit your business:
They enhance your existing benefits: Offering voluntary benefits help your employee protect what matters to them the most. For example, cancer insurance, critical illness insurance, and life insurance all contribute to employees feeling safe and secure in their health.
Support your employee's financial well-being: Voluntary benefits are paid directly to employees. Your employees can use cash benefits for any reason, like deductibles, coinsurance, and non-covered treatments.
It helps attract and retain employees: The best talent looks for organizations that offer great employee benefits. Not only do benefits attract talent, they help retain it, which helps avoid onboarding costs, reduces training costs, and gain a more skilled workforce.
Appealing to multiple generations: Offering voluntary benefits allow you to tailor your benefits programs to fit the needs of your specific workforce.
Reduces both 401(k) and 403(b) loans and withdrawals: Because voluntary benefits are paid directly to employees, your employees can use this cash for unexpected medical bills that might result in withdrawals otherwise.
Engage, motivate, and encourage productivity within your workforce: When employees feel satisfied with their benefits, they are more likely to bring enthusiasm to their work.
The company receives cost-savings benefits: Employers can choose to pay all, none, or some of the premiums. Voluntary benefits are typically affordable for both the employee and the employers.
At SBMA, we understand how important your employees are to your company. Contact us to learn more about how voluntary benefits can help your business.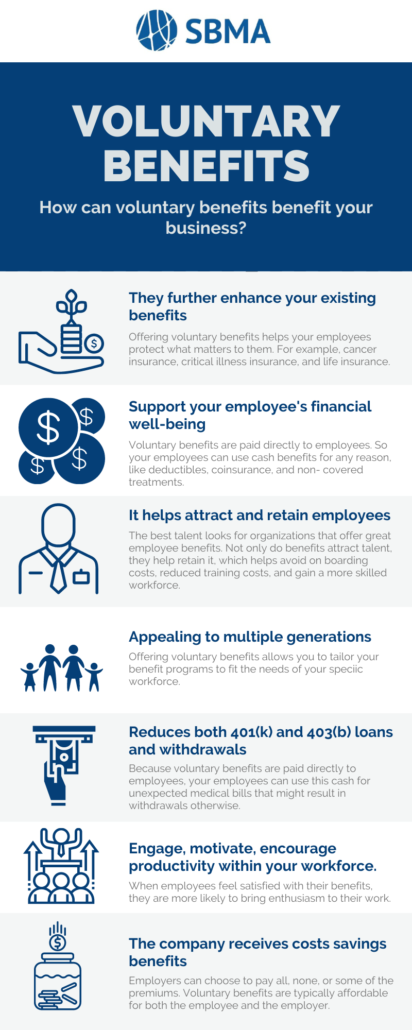 https://www.sbmabenefits.com/wp-content/uploads/2020/07/Screen-Shot-2020-07-20-at-6.11.01-PM.png
535
816
Amanda Rogers
https://www.sbmabenefits.com/wp-content/uploads/2020/07/sbma-logo-.jpg
Amanda Rogers
2020-07-20 18:16:49
2020-07-20 18:16:51
Voluntary Benefits and Your Employees